Mumbai – Maria Susairaj along with her friend Paromita Chakraborty has been named in seven complaints of cheating in Mumbai and Thane. Maria was booked for her part in the murder of TV executive Neeraj Grover in the year 2008. The actress had dreams and desires of making her presence known in Bollywood. On the course of her ongoing affair with the TV executive, Neeraj Grover who was killed by her boyfriend who was also a naval office, Emile Jerome Mathew, this was when her dream of being a part of fame and Bollywood came crashing down.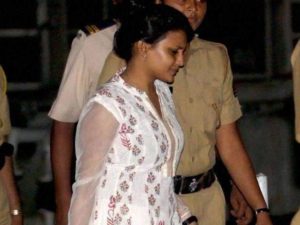 The actress was then given a time to serve. She met Paromita Chakraborthy and Anita Vedpathak at the Byculla jail. The three became friends and spent most of their time together. It was in the month of January, that Maria had finished serving her time, Anita and Paromita too had gotten out on bail. The three have been on the run ever since. According to the complaints filed in the name of Paromita and Maria, the two have been looting people by luring them into attractive heavy profit business plans or by taking large amounts of loans with a promise of paying them off with interest. The women would then vanish from the scene with the money and valuables of the people who laid their trust in her.
Paromita was sentenced to jail for her cheating crimes that she had done in the past as well. She had cheated her landlady, a housewife in Oshiwara of Rs. 2.5 crore. Paromita borrowed the sum by saying that she had to pay the amount to the income tax officials so that she can de-freeze her assets worth Rs. 30 – Rs. 50 crore. She had promised her to return the amount to her with interest. Similarly, Anita was also booked for stealing cheques worth Rs. 50 crore from Angel Broking Limited in MIDC, Andheri East.
According to the seven complaints that are lodged under the name of the three women, Paromita had posted to be the daughter of West Bengal chief minister while Anita posed as a power-broker. In every case, the trio lured the victims into their trap by using business deals and loans as a medium. Maria and Paromita lived in a rented apartment in Thane where they also conducted business meetings with their victims.