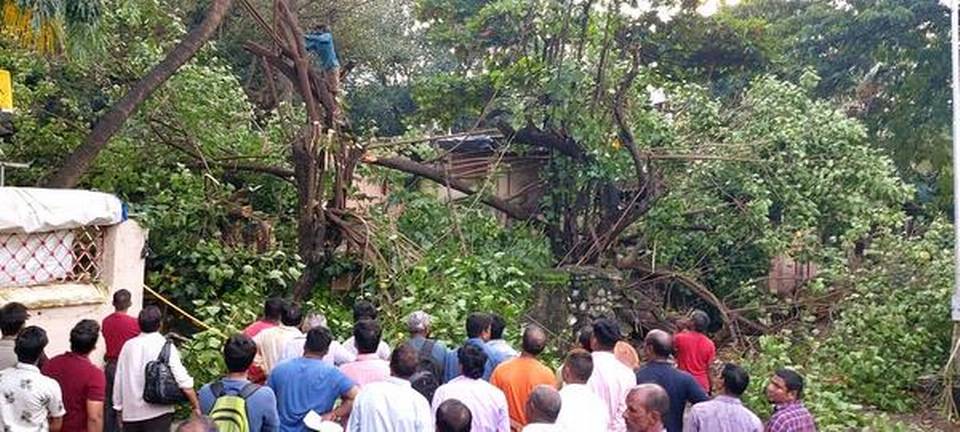 Man who was helping in removing tree at Kalachowki suffers heart attack
A footwear seller died while a passerby was injured after a tree branch fell on them at Kalachowki on Friday. This is the seventh death in a tree fall in Mumbai this year. Meanwhile, another person, who was helping lift the fallen tree branch, suffered a heart attack and was admitted to KEM Hospital.
The incident occurred around 4.20 p.m. at Abhyuday Nagar when the largest branch of a 'bendi' tree located in the compound of a MHADA pumping station broke off. Nathulal Mourya (48) who sold shoes on the roadside every day was sitting with his wares when the branch fell on him.
"Hearing a sound, he realised what was happening and started running but the branch was too large and heavy. It hit him on the head, neck and chest. He must have died on the spot. We sent him to KEM Hospital," Sanjay Baswant, senior police inspector, Kalachowki police station, said. The police had to tie ropes around the branch to pull it up and extract him.
Dr. Hemant Deshmukh, dean of KEM Hospital, said one person was brought dead with multiple injuries while another sustained minor injuries in the tree fall. "A man in his 40s, who was lifting the tree branch, suffered a heart attack and was also rushed to the hospital." The heart attack survivor is Shoaib Farid Shaikh.
The patient was thromobolysed (a process of medicating to break down the blood clots). According to Dr. Deshmukh, heavy weight lifting can trigger such a heart event in people who have underlying coronary artery disease. "The patient is now stable."
The person who escaped with minor injuries has been identified as Suhas Palkar (40).
A garden department official from F South ward said the tree branch was completely rotten from inside but there was no visible damage from outside. "The heavy rain in Mumbai in the last few days with strong winds must have weakened it. The tree is located in the MHADA pumping station building's compound, and as per the Tree Act, it is the owner's responsibility to maintain trees on their premises." The Kalachowki police have registered an accidental death report.
This is the seventh death in a tree fall this year while around 20 people have been injured. A 70-year-old man was injured when a tree fell on him in Ghatkopar on September 21. The BMC has been facing flak even as contractors have been appointed for trimming trees. Around 90,000 trees were trimmed before the beginning of monsoon this year.