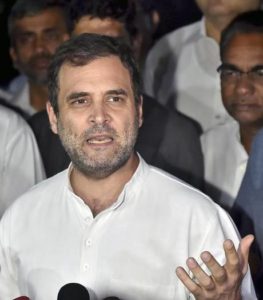 V.D. Savarkar's grandson filed plea
In an order dated July 9, the Bhoiwada magistrate court had directed the Shivaji Park police station to investigate the complaint filed by the grandson of Veer Savarkar pressing defamation charges against Rahul Gandhi, the former president of the Congress. The court order was made available to the media on Wednesday.
Ranjit Savarkar had filed a plea before the additional chief metropolitan magistrate at Dadar Bhoiwada on August 23, 2016. Mr. Savarkar's plea stated that Mr. Gandhi had posted defamatory tweets in English and Hindi on March 5, 22 and 23 that year against his grandfather Vinayak Damodar Savarkar. Mr. Savarkar's plea mentioned that the tweets said "vinayak begged for money" from the British government for his release from jail and wanted "to be a slave in British Raj".
The petition seeks action against Mr. Gandhi under Sections 499 (defamation) and 500 (punishment for defamation) of the Indian Penal Code. Mr. Savarkar said, "Mr. Gandhi posted the tweets with the knowledge that they were defamatory in nature and was causing harm to the reputation of the Savarkar family. V.D. Savarkar was a fearless freedom fighter, social reformer, writer, dramatist, poet, historian, political leader and philosopher and Mr. Gandhi called him a traitor."
In his plea, Mr. Savarkar has quoted all the tweets posted by Mr. Gandhi. One tweet read, "When Chandra Shekhar Azad was sacrificing his life for India, BJP's Savarkar was begging for mercy from the British". In another tweet, Mr. Gandhi said, "Bhagat Singh dared the British Raj to send the executioners. BJP-RSS ideologue Savarkar begged fro his own release." He followed it up with this tweet: "Therefore if the government in their manifold beneficence and mercy release me. I for one cannot but be the staunchest advocate of constitutional progress and loyalty to the English government which is the foremost condition of that progress."