Rohini College of Engineering and Technology has recently organized an International Conference on Advances in Mechanical Engineering and Research – ICAMER 2019 on 5th and 06th of April collaborating with University of Bayreuth, Germany.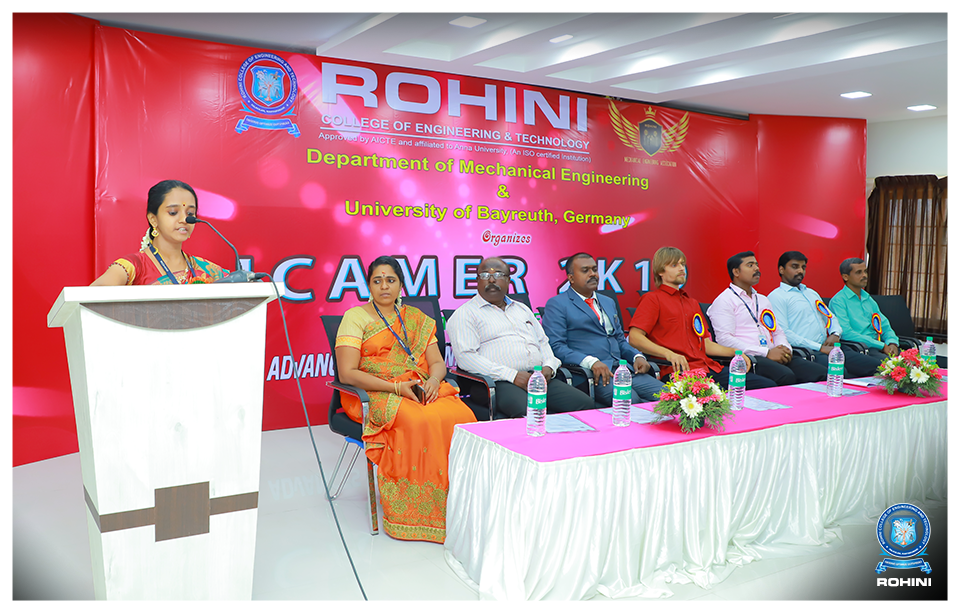 The conference was an international forum which aimed to bring together leading academician, students, researchers and research scholars to exchange and share their experiences and hard-earned technological advancements about all aspects of based on their research and share the valuable experiences with the students, scientist and scholars around the world
Respected luminaries on the dais and of the dais, Shri. K Neela Marthandan, Chairman, RCET, Dr. N. Neela Vishnu, MD, RCET, Dr. V.M. Blessy Geo, CFO, RCET, Dr. R. Rajesh, Principal, RCET. Thank you to the crew members in collaborating and organizing this International event. Dr. Andrii Khokhlenko, Professor, Department of Automotive and Mechatronics, University of Bayreuth, Germany, was our chief guest. Dr. J.S. Binoj, Associate Professor, Sree Vidhyanikethan College of Engineering, Tirupati and Dr. F. Michael Raj, Associate professor, Stella Mary's college of Engineering, Nagercoil, were our guest of honour.
Advances in Mechanical Engineering and Research – ICAMER 2019 provided students with the knowledge and understanding of the state-of-the-art in one or more of the many areas of mechanical engineering.
Original research papers were invited from many sectors such as Automobile, aerospace, marine, composite materials, material science, coating technology, renewable energy, refrigeration and air conditioning, thermal systems and alternate fuels.
ICAMER-2019, helped the students to express their thoughts with guidance of the brightest and innovative minds. Special mention to Dr. Andrii Khokhlenko who gave an excellent presentation about the Advances in Mechanical Engineering and Research. This is an eye opening for our students which made them explore into the field of Automotive.
This was an intellectual forum where engineering students were exposed to different environment and this also emphasized on the importance of being innovative on these vital areas which requires lot of research in the present scenario for national wide development.
ICAMER 2019 is one kind of experience which allows the students to develop abilities which are transferable to all areas of mechanical engineering.
The principal component of this International Conference on Advances in Mechanical Engineering and Research was the original research paper, which was associated with current research activity, allowing students to gain substantial expertise in their area of interest. Further expertise will be developed by taking guidance from the professors. With this kind of international exposure students are shown their envisaged career path and from a broad range of taught subjects available in the department.
The success of this conference can be measured by the large proportion of students who participated in the event and seeing themselves out of the box. Kudos to all the students participated and the staff members who organized such a successful event.