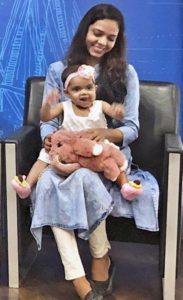 Gujarat resident was diagnosed with biliary atresia, a rare disease that affects one in 20,000 children, four-and-a-half months after birth
On Thursday, a festive mood hung over one section of Global Hospital in Parel, as doctors, nurses and a few family members bustled around organising the first birthday party of Ipsa Valvi. Though Ipsa had officially turned one a month ago, the party was organised to celebrate her regaining health three months after a complicated liver transplant.
When Ipsa was born in Vyara town in Gujarat's Tapi district, she weighed 3.08 kg, but soon started showing symptoms of jaundice. When she failed to gain weight even after a month, her parents grew worried. Suchitra, Ipsa's mother, said, "We took her to several paediatricians and they all thought the cause was jaundice. After two to three months, she underwent tests in Surat and was diagnosed with a liver problem. It was the worst day of our lives."
The family arrived in Mumbai after they were referred to Dr. Vibhor Borkar, paediatric hepatologist at Global Hospital. The doctors found out that Ipsa was suffering from a rare disease called biliary atresia. Dr. Anurag Shrimal, paediatric liver transplant surgeon at Global Hospital, said, "Patients with this condition are born without bile ducts. The bile becomes stagnant and causes permanent liver damage and cirrhosis. It is very rare and only affects one in 20,000 children."
Dr. Shrimal said surgery is possible only if the condition is diagnosed within 90 days. Since the condition was detected only four-and-a-half months after Ipsa's birth, liver transplant was the only option. The first challenge was to find a donor as Ipsa's mother's liver was not a suitable match. Luckily, Ipsa's aunt, Krupali Gamit, volunteered to be a donor and her liver was found to be a perfect match. Ipsa and Ms. Gamit then underwent the transplant on June 21.
Dr. Shrimal said, "The blood vessels of babies are small and joining them to the transplanted liver requires a special skill set. The post-operative recovery in infants is as challenging as the surgery. Strict asepsis and attention to detail is a must. Ipsa weighed only 4.7 kg at the time of her surgery, making her the lightest baby in western India to have a successful liver transplant."
An overjoyed Ms. Valvi said, "All her development, which was delayed, has now started. She has started teething, using the walker and asking for food like all normal children."