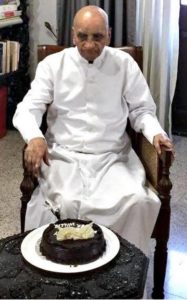 He served as chief judge of the marriage tribunal for 28 years
Catholic priest Monsignor William E. Nazareth, who had celebrated his 100th birthday last month, breathed his last on Thursday at Clergy Home in Bandra. Known in the archdiocese as Monsignor Willie, he had founded the marriage tribunal in the church and was an expert at canon law. A message from Clergy Home circulated within the community said that he "passed away peacefully at 7.10 a.m."
Father Nigel Barrett, spokesperson of the Archdiocese of Bombay, said the funeral mass will be at Cathedral of the Holy Name in Colaba at 10 a.m. on Saturday. The burial will be at St. Andrew's Church in Bandra.
Born on September 8, 1919, Monsignor Willie was ordained as a priest in 1947. On his birthday last month, the archdiocese on its website stated that at 100, Monsignor Willie can claim the honour of being the oldest priest in the Archdiocese of Bombay. The statement read, "He is best known for his connection with the Metropolitan Marriage Tribunal, which he founded because he understood the pressing need. In the 28 years of serving as the Chief Judge, he has seen the number of cases grow from four in a year to over a hundred."
The archdiocese also stated that Monsignor Willie has written about his clergical experience in two publications: Homilies for Various Occasions and How to Marry Happily and Stay Happily Married.
Community member Melwyn Fernandes said Monsignor Willie's passing is a great loss. "He served the community till his last breath," Mr. Fernandes said.