Rahul Gandhi, a senior Congress Member of Parliament, has accused Prime Minister Narendra Modi and Home Minister Amit Shah of orchestrating the purchase of Congress MLAs and seizing the government in Madhya Pradesh. Referring to the rebellion of 22 MLAs that led to the collapse of the Kamal Nath-led government in 2020, Gandhi condemned what he termed as the BJP's suppression of the masses' voice.
In the 2018 Madhya Pradesh assembly elections, the Congress emerged as the single largest party with 114 seats. Subsequently, forming a government with independent support, they established power. However, 15 months into Kamal Nath's chief ministership, the government crumbled due to MLA resignations. The BJP, holding 109 seats, then formed a government led by Shivraj Singh Chouhan.
Addressing a poll rally in Madhya Pradesh's Vidisha, Rahul Gandhi asserted, "Five years ago, you elected the Congress party into government, not the BJP. But Narendra Modi, Shivraj Singh Chouhan, and Amit Shah used monetary influence to lure Congress MLAs, stealing the elected Madhya Pradesh government."
He further lamented, "Through the purchase of Congress MLAs with crores of rupees, the BJP leaders, led by the Prime Minister, silenced your voice and undermined your choice."
Gandhi pledged that the Congress will strive to oust the BJP from Madhya Pradesh, highlighting the party's successes in Karnataka and Himachal Pradesh, emphasizing their approach of displacing opponents with affection rather than hostility.
"We will fight the BJP. In Karnataka and Himachal Pradesh, we ousted them, not through animosity but by opening the 'Shop of Love' amidst the 'Market of Hatred'," Gandhi affirmed.
Expressing confidence, Gandhi predicted the Congress would secure between 145 to 150 seats in Madhya Pradesh.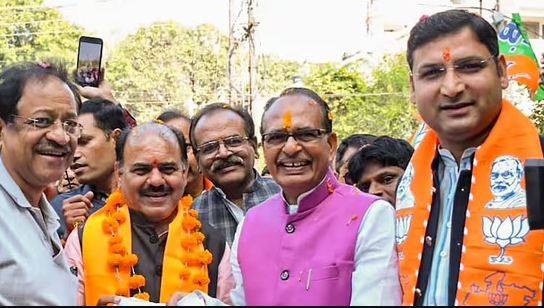 In response, Shivraj Singh Chouhan labeled the Congress-led government as one of "entertainment," asserting the BJP's focus on development. He lauded Prime Minister Modi's leadership and highlighted their 'double-engine' government, contrasting it with what he deemed the Congress's 'entertainment-focused' governance.
Chouhan took a swipe at Rahul and Priyanka Gandhi, suggesting they visited the state merely for amusement and accused them of spreading falsehoods. He emphasized the BJP's commitment to progress while dismissing the Gandhis' presence as merely 'entertainment' without substance.