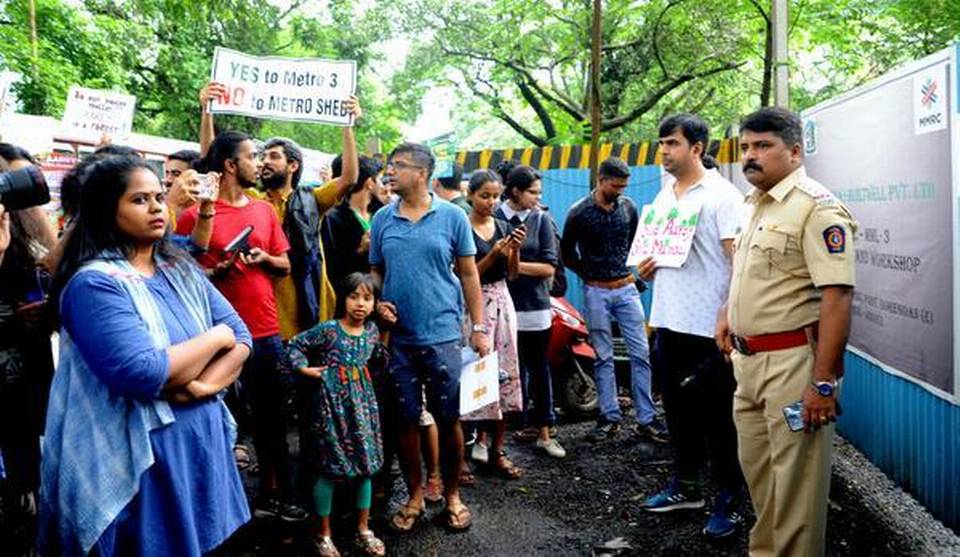 The Shiv Sena leader Aaditya Thackeray gave a presentation of the flora and fauna of Aarey colony and sounded an alarm that destruction of this bio-diversity would cause floods in Mithi river
Shiv Sena leader Aaditya Thackeray said on Tuesday said that Mumbai Metro Rail Corporation Limited's (MMRCL) adamant stand on setting up a Metro car shed after cutting trees in Aarey is a move against citizens of Mumbai.
He said the consultant who suggested Aarey for the site, ignoring its bio-diversity, must be probed in terms of funding and expertise.
The MMRCL has planned to construct the Metro 3 carshed at Aarey and recently the Tree Authority of the Brihanmumbai Municipal Corporation gave permission to cut over 2,600 trees, amid protest from the Sena and Congress. Civil society, environmentalists and political parties have joined the protest to oppose the carshed at Aarey while the Bharatiya Janata Party (BJP) is firm on not shifting the venue.
Addressing a press conference here, Mr. Thackeray gave a presentation on the flora and fauna of Aarey and sounded an alarm that destruction of this biodiversity would lead to flooding of the Mithi river.
Without naming Union Minister Nitin Gadkari, who on Monday warned of delays in the project due to such opposition, Mr. Thackeray said that a one-year delay could not be compared to environment destruction and hardships of the next 50 years. "The Mithi river has flooded thrice this year alone," he said adding this has now become a MMRCL versus Mumbai issue.
As for the consultant of the project, Mr. Thackeray asked, "Who is this consultant for Metro 3? If land at Kanjurmarg can be used for Metro 6, why can't it be used for Metro 3? Is there any irregularity or scam in suggesting this place? It should be probed."
Mr. Thackeray lashed out at Ms. Bhide for not listening to those opposing cutting of trees. Ms. Bhide had on Monday outright rejected the idea of shifting the car depot out of Aarey. "The concerned officer is not only disrespecting the elected representatives and the citizens of Mumbai but her statements also seem to be an effort to threaten the courts. An officer who loves Mumbai should be brought in instead," he said. The Sena leader was however quick to clarify that the party does not oppose the project, only the location.
"There have been cases of conflict with MMRDA as well. But those were solved with due dialogue.No agency other than MMRCL behaves in a dictatorial manner. We will not let that happen," said Mr. Thackeray. He said the Metro 3 line was extended till the Aarey carshed which is in the middle of nowhere. "I don't know whether the real estate lobby is behind this but the land will be used for commercials exploitation in future if this is allowed," he said.
He was joined by wildlife expert Nayan Khanolkar, Rajesh Sanap and activist Zoru Bhathena at the presentation.